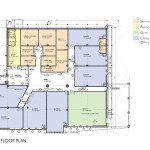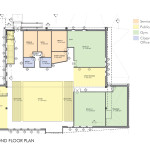 Zhang Sah Kelly Drive – Passive House Martial Arts School and Gymnasium
Philadelphia Pennsylvania  – 2012
passive house renovation
BluPath explored the adaptive reuse of this former banquet hall along Kelly Drive in Philadelphia's East Falls neighborhood to house a martial arts gym and fight center on the main level with the childcare and martial arts school occupying the ground level.
The project would be partially funded by developing multifamily housing along the rear of the site with shared parking (not shown).
The project was designed to phase in thermal improvements to meet Passive House Standard over a period of years.
20,800sf renovation of a commercial site for a martial arts gym and school.